Add some dental humor to your crochet collection with these tiny Teeth Amigurumi. Crafted using the free pattern by Amibuzz, these little dental darlings are a fun and quirky addition to your amigurumi projects. Follow the easy instructions, and in no time, you'll have a set of adorable crocheted teeth. Get ready to give everyone a toothy grin!
Pattern by: @amibuzz
Picture: @amibuzz
Tutorial Video: Amibuzz
Even if you're new to crochet, don't worry! AmiBuzz has both a written pattern and video tutorials for the chubby chicken. The video tutorial will allow you to see the process in action and follow along in real time. You can pause, rewind, or fast-forward as needed, and see her crochet technique up close. So why not give it a try today and see what you can create?
---
Abbreviations:
R = round
mr = magic ring
sc = single crochet
inc = increase (2 sc in the next stitch)
dec = decrease (join the next 2 stitches into 1)
sl st = slip stitch
st = stitch
ch = chain
[ ] = number of stitches you should have at the end of the round/row
( ) x 6 = repeat whatever is between the brackets the number of times stated
To crochet amigurumi Teeth you need the:
– Yarn: white, blue, pink, black
– 2.5mm crochet hook
– Fiberfill for stuffing
– Sewing needle and scissors
Amigurumi Teeth Keychain
Free crochet pattern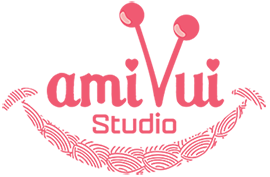 Tooth roots (make 2)
Start with white yarn
| | |
| --- | --- |
| R 1: 6 sc in mr | [6] |
| R 2: (1 sc, inc) x 3 | [9] |
| R 3: 9 sc | [9] |
Cut the yarn, and make the 2nd tooth root in the same way. Do not cut the yarn, Join in 1st leg and continue to the Tooth base.
R 4:

tooth root

(right), 3ch, join

tooth root

(left), 24sc

[24]

R 5: (7 sc, inc) x 3

[27]

R 6: (8 sc, inc) x 3

[30]

R 7: (9 sc, inc) x 3

[33]

R 8: (10 sc, inc) x 3

[36]

R 9-12: 36 sc

[36]

Insert the eyes between rounds 9-10, 4 sts apart

Change with blue yarn

R 13-15: 36 sc (3 rounds)

[36]

R 16: (4 sc, dec) x 6

[30]

R 17: (3 sc, dec) x 6

[24]

R 18: (2 sc, dec) x 6

[18]

R 19: (1 sc, dec) x6

[12]

R 20:  6 dec

[6]
Stuff with fiberfill. Cut the yarn, and hide the tail.
Cheek (make 2)
Start with pink  yarn
Fasten off and leave a tail for sewing. Sew the cheeks on round 11 of the Teeth.
Thanks for crafting with Amibuzz! Stay tuned for more unique amigurumi patterns. Remember to subscribe to Amivuistudio.com for updates, and share your finished creations with us on social media. Happy crocheting!
Free Amigurumi Crochet Pattern
---
♥ Crochet with Amivui Studio
Don't forget to share snapshots of your crochet Teeth Keychain amigurumi, crafted using our Free Amigurumi Teeth Keychain Pattern, in our vibrant Facebook group. Connect with fellow enthusiasts and share your passion for this delightful art form.
For a delightful array of whimsical amigurumi patterns, explore the treasures awaiting you at Amivui Studio's store. From charming creatures to cuddly companions, let your imagination soar as you embark on a captivating journey of crafting. Happy crafting and may your creations bring joy to all!
Thank you very much
☆ゝ ʕ•ᴥ•ʔゝ☆
Amigurumi Bear crochet pattern. Tutorial video by AmiBuzz
If you enjoyed AmiBuzz's Emoji tutorial, consider subscribing to her YouTube channel for even more amazing amigurumi tutorials! With her expert guidance and clear instructions, you'll be able to create a whole menagerie of cute and cuddly creatures in no time.
Buy Me a Coffee
Hey everyone! We make cute free crochet amigurumi patterns. We also have a YouTube channel to help you make it easier. And if you enjoy our videos and appreciate our work, please support us and our YouTube channel and
Buy Me a Coffee
. We appreciate every single cup and all the support, encouragement, and kindness you show us! Thank you for supporting us.

#Amivuistudio